Over four full-length shows and a series of shorter works, Boho have experimented with a wide range of interactive mechanisms. Starting back in 2005 with a torchbeam which the audience used as a mouse cursor (Playable Demo) and moving through hacked console controllers (A Prisoner's Dilemma), hands-on models (the sandpile model in Food for the Great Hungers), onstage treasure hunts (True Logic of the Future) through to adapted boardgames (Modelling Play). With Word Play, Boho are trialling a whole new interactive device – the smartphone – while at the same time returning to the company's roots in adapting video game control systems for the stage.
I spoke with the duo behind Word Play, Jack Lloyd and Mick Bailey, about the phone-based interactivity within the show.
David: Why did you decide to go with smartphone interactivity for this show?
Jack: Everyone has a phone. It's an interactive device that's hugely powerful, that everyone knows how to use, and that fit really nicely within the world of the play.
Mick: The whole show is operable by SMS, with the intention that the play is accessible to as many people as possible, regardless of the handset they own.
Jack: But we have a good relationship with a local iOS developer, Bonobo Labs, who have thrown their support behind developing an app for iPhone and iPad that audience members can use to interact with the show.
David: What does the control mechanism look like?
Mick: We break the show down into three kinds of interaction – a vote, a message and a control, like arrow keys. This means we can call on the whole audience or just individuals to give their input and guide the show along.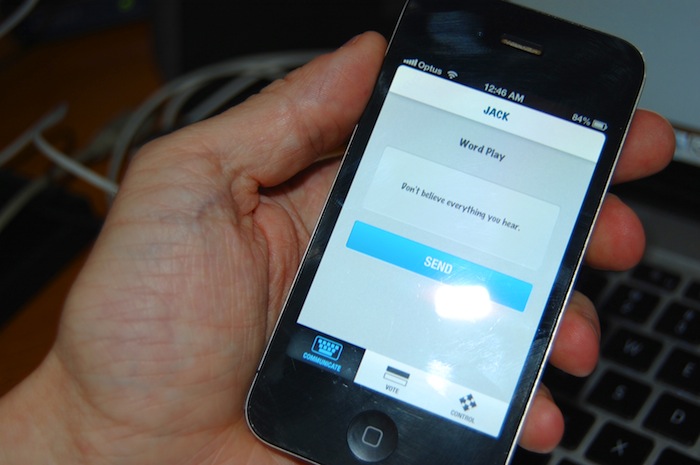 David: What impact does this have on the characters and the show?
Jack: We use interactivity to give an audience the opportunity to explore the work from the direction that they're interested in. They can ask us things directly about the world we're presenting, or vote to hear about one thing or another, or even pilot actors around the space. This is hopefully all part of a richer experience for the audience – it adds a liveness and an immediacy to the performance when you know that what the character does next is wholly dependent on your input.
David: How do you think this will feel for the audience?
Mick: Hopefully it's an intuitive experience for them. It's an unusual format to view a show in, to be sitting in one place and to see it all unfold on the screen, performed in a totally different building, but the interactivity with the audience is crucial – it's really the difference between a live performance and what may as well be prerecorded film. The interactivity makes it theatre again.
Jack: I think that when the audience are all huddled together in the darkened theatre, sitting amongst a sea of bottom-lit faces and doing what they can to keep our characters alive, I reckon it's going to feel pretty damn special.
Where: CSIRO Discovery Centre, Clunies Ross street, Acton
When: 7:30pm Wednesday – Saturday 15-18 May, 22-25 May, 29 May-1 June
Tickets: $20 – buy tickets here.
This is a Centenary of Canberra project, proudly supported by the ACT Government & CSIRO.